iSi – Nitro Profi Maker
The NEW no-hassle way to create perfect Nitro beverages!
Nitro Brew is one of the fastest-growing trends in coffee today. Now, iSi has created a way for our customers to create Nitro Coffee, Nitro Tea, and Nitro Cocktails right at home! Adding Nitrogen (N2) to cold brew coffee and cocktails initiates a spectacular cascading effect, making the beverage unique, attractive, and personal.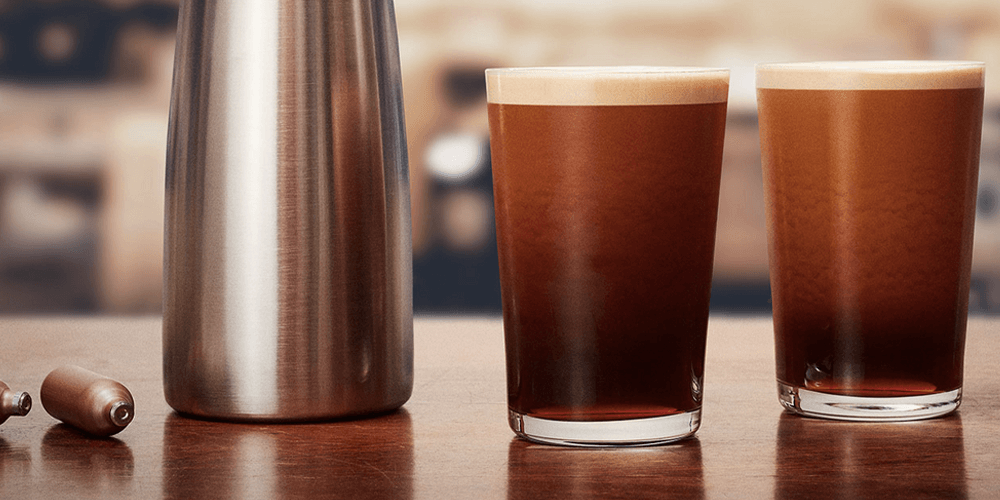 Nitrogen creates a velvety creamy texture and a long-lasting foamy head for brews and cocktails. The iSi Nitro allows you to dispense fresh for every serving and the iSi designed closed system allows the brew to remain unchanged for several days in refrigeration.
A simple process for dispensing: just fill the iSi Nitro, charge with one iSi Nitro Charger, shake, and dispense. Watch the engaging swirl and cascade, as the foamy head develops right before your eyes. Only iSi Nitro Chargers are designed to fit with the iSi Nitro. Nitrogen chargers from other manufacturers will not operate the iSi Nitro. They do not fit, and cannot operate iSi whippers or iSi soda siphons.
Spesifikasi iSi – iSi – Nitro Profi Maker
| | |
| --- | --- |
| Tipe | Nitro Maker |
| Origin | Austria |
| Brand | ISI |
| Volume | 1.000ml |
| Material | Stainless Steel |
| Dimension | 104 x 105 x 340 mm |
Product Details
Such drinks are already among the fastest growing trends in the beverage industry: a new, extraordinary mouthfeel and a fascinating optical cascading effect will delight you and your guests. Create new, inspiring drinks with little effort!
You'll be convinced by the cold brew coffee, charged with nitrogen, available in a fantastic range of flavors.

Individual preparation: whether nitro coffee, tea or cocktails, with or without alcohol and flavoring – you decide.

Prepare every drink fresh – quickly and easily – and enjoy your guests' fascination.

Handy, flexible and space-saving

Easy operation and cleaning: Completely dishwasher safe

Made of high quality stainless steel for long life and safety.

NSF-certified and developed for professional kitchens