UNOX BAKERTOP MIND Maps PLUS Electric 10 Trays
BAKERTOP MIND.Maps™ PLUS is the best combi oven for pastry shops and the best combi oven for bakery. It is designed to ensure maximum performance in terms of baking uniformity and precision and temperature management. The touch control panel of this combi oven for pastry shop guarantees maximum programming flexibility to ensure that every product is perfectly baked.
Perfect baking under any loading conditions, precise air distribution in every point of the cooking chamber with multi-fan system and self-reversing fan. ADAPTIVE.Cooking™ automatically corrects time and temperature settings, to ensure the best possible result at all times, even when the baking load changes.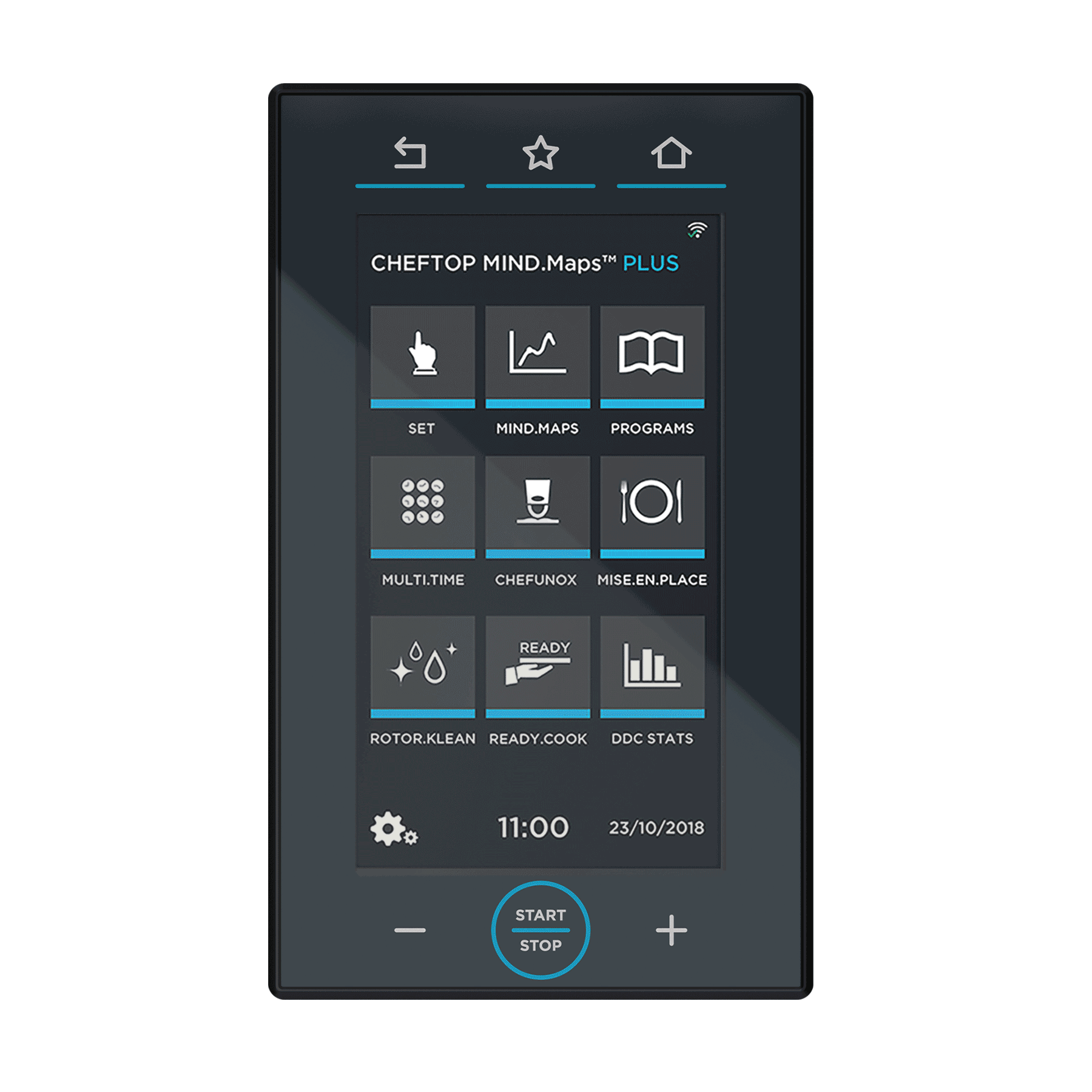 The oven has a Master Touch control screen, with which food can be prepared manually, but it also gives access to a list of cooking cycles that have been previously saved or new recipes can be made, which can then be saved, distance between the grids is 80 cm, the oven has Adaptive.Cooking, Multi.
Time that allows you to bake 10 different products at the same time, so that all dishes are ready at the same time, Dry.Maxi for the ideal humidity, Steam.Maxi for perfect steaming , Air.Maxi for perfect hot air circulation, automatic cleaning system Rotor.Klean and the Auto.Pure anti-scale filter, capacity 6x (60x40cm)
Easy. Comprehensive. Intelligent.
Manual and MIND.Maps™ programming, fully-automated cooking and baking processes, 384 programs memory, MULTI.Time and MISE.EN.PLACE programming to manage 10 concurrent cooking processes, simplified READY.COOK programming.

For better cooking & For better business. Maximize your work, improve your performance, realize your ambitions.
Key Features:
ADAPTIVE.Cooking™ By registering changes in humidity and temperature, it adapts the cooking process to the food-load to deliver an identical and perfect result every time.

CLIMALUX™ uses sensors to measure the effective humidity inside the oven and acts automatically to ensure that the cooking conditions match the set one.

AUTO.Soft automatically regulates the rise in temperature to make it gentler and guarantee an optimal distribution of heat inside each pan in the oven

SMART.Preheating automatically sets the best temperature and preheating time to guarantee maximum repeatability of results throughout the day

SENSE.Klean™ technology estimates the degree of dirt and suggests the best automatic cleaning mode according to actual use

AUTO.Matic automatically opens the door at the end of the baking cycle to guarantee excellent results at every batch.
Baking of bakery and pastry products
ARTISAN BAKERY: Perfect ventilation, precise percentages of humidity and uniformity at every point of the pan, on all trays. When required, extra steam production with STEAM.Boost to obtain gold and shining surfaces for your bread.

CONFECTIONARY: Unox ovens give you full control of the baking process, from the most delicate to the most extreme, respecting the aromas and structures of the dough.

FROZEN BAKERY: The baking of frozen dough is a science. UNOX ovens deliver fragrant, crisp and consistent internal structures with golden and uniform external surfaces with no efforts.

DEHYDRATION: Three golden rules: precise temperature, gentle and regular ventilation and maximum extraction of humidity. Prepare for perfect dehydration.

BISCUITS AND COOKIES: Precise, repeatable, uniform. From the first to the last piece, same color, same structure, same result. Discover the pleasure of perfection.
Spesification
Commercial name: 10 EU PLUS

Power supply: Electric

Type of control: PLUS

Number of trays: 10

Tray size: 600×400

Distance between trays: 80 mm

Frequency: 50 / 60 Hz

Voltage: 380V 3Ph

Weight: 148 kg

Electric power: 21 kW

Width: 860 mm

Depth: 967 mm

Height: 1163 mm
Download